Welcome to the Lake Geneva Fishing Club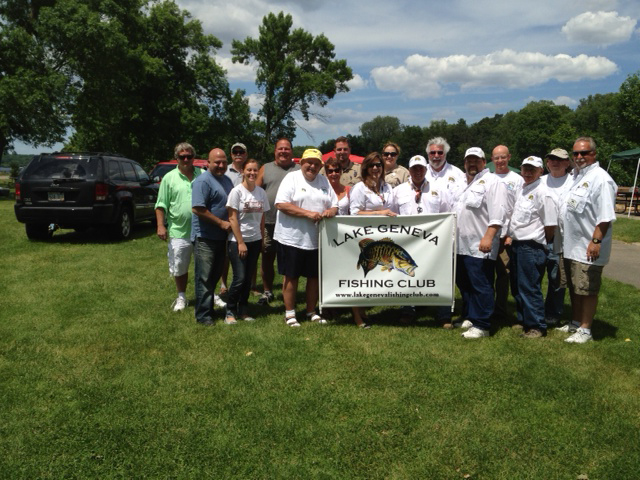 We welcome new members to join us for camaraderie at our meetings and events and we encourage all members to be generous in sharing information about the lake and catching fish. The Fishing Club of Lake Geneva is dedicated to promoting sport fishing for all species on Lake Geneva unlike many clubs that are devoted to one variety. We also encourage kids to fish and the club sponsors an annual Kids Free Fishing Day as described on our Kids Day page. In the spirit of competition, the club has season long contests in addition to tournaments throughout the year arranged by our Tournament Chairman but one does not have to enter contests to gain knowledge and pleasure from being a club member. We have a speaker; from members to top name pros at the monthly meetings.
Interested in our club?
We meet at Cabela's in Hoffman Estates on the 2nd Wed of the month, meeting starts at 6:30. Visitors are welcome, there is a $5 fee for guests to help defray the speaker cost, this will be deducted from your dues if you join. Keep checking the web site for updates and info on the clubs activities.
The cost for an annual membership is $40, there is also a family membership (husband, wife & children under 16) available for $65, there is a $5 initiation fee for new members. Tournament entry fees are nominal and set by the Chairman, we fish for fun and learning.
Our Next Meeting will be Wed. September 10th, 2014. We will have Mark Hanson from St Croix rods. At our last meeting we had a visit from Luke Roffler the replacement for retiring Doug Welch, he came to introduce himself and get a feel of the job, also let us know he will be asking for help on some of the projects, the first being fin clipping of the Musky stocking coming soon.
I just heard from the hatchery that they need to delay delivery of the fish until September 18th.
"UPDATE"  The Wisconsin DNR will once again be stocking muskies in Lake Geneva on September 18th  and we need your help! Since muskies are still a relatively new species for Geneva, we need to keep close track of their growth rates and survival. To accomplish this, we will be finclipping all 2500 muskies before they are stocked into the lake.
 Finclipping will occur in one day,  September 18th around noon, we will start setting up at 11am. The fish will be stocked from the fish truck into a net pen in the lake and netted out for finclipping before being released. Several DNR staff will be on site to work alongside you. Volunteer duties will include:
          Netting fish out of the net pen
          Transporting fish by bucket to the clipping     troughs
           Netting fish out of the clipping troughs
         Finclipping fish (as easy as using a pair of scissors)
          Stocking clipped fish into the lake by bucket
 All you need to bring is yourself, a pair of waders (optional) and whatever personal items you would like (camera, water, etc.). If you are interested in helping out, please contact the Lake Geneva Fishing Club.  Thank you very much for helping make Lake Geneva fishing even better! If you can and would like to help please contact us at LGFC@mail.com
Thanks to all that helped make our 25th Kids day a big success, about 120 kids and their families attended, got prizes, ate, caught fish and had a good time. The club members again had a great time seeing all the kids having fun.