Welcome to the Lake Geneva Fishing Club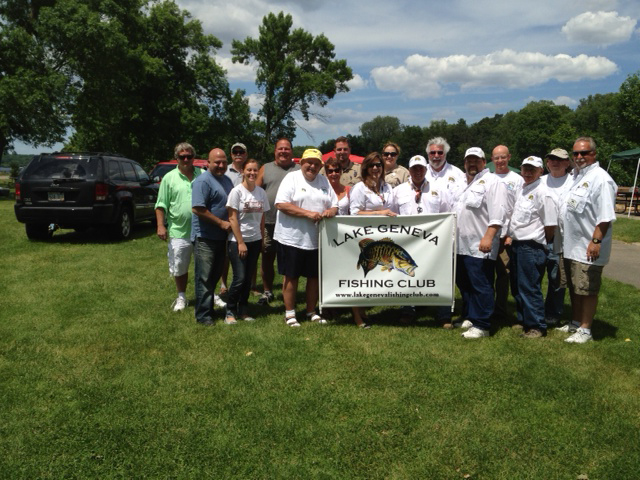 We welcome new members to join us for camaraderie at our meetings and events and we encourage all members to be generous in sharing information about the lake and catching fish. The Fishing Club of Lake Geneva is dedicated to promoting sport fishing for all species on Lake Geneva unlike many clubs that are devoted to one variety. We also encourage kids to fish and the club sponsors an annual Kids Free Fishing Day as described on our Kids Day page. In the spirit of competition, the club has season long contests in addition to tournaments throughout the year arranged by our Tournament Chairman but one does not have to enter contests to gain knowledge and pleasure from being a club member. We have a speaker; from members to top name pros at the monthly meetings.
Interested in our club?
We meet at Cabela's in Hoffman Estates on the 2nd Wed of the month, meeting starts at 6:30. Visitors are welcome, there is a $5 fee for guests to help defray the speaker cost, this will be deducted from your dues if you join. Keep checking the web site for updates and info on the clubs activities.
The cost for an annual membership is $40, there is also a family membership (husband, wife & children under 16) available for $65, there is a $5 initiation fee for new members. Tournament entry fees are nominal and set by the Chairman, we fish for fun and learning.
Our Next Meeting will be Wed. March 11th 2015. The speaker will be Luke Roffler | Senior Fisheries Biologist | Wisconsin DNR, he will talk about "The Future of Lake Geneva: Bigger Fish and More of Them"
The Muskies are in, 2500 fish were fin clipped and stocked in about an hour thanks to all the help that showed up. 
Thanks to all that helped make our 25th Kids day a big success, about 120 kids and their families attended, got prizes, ate, caught fish and had a good time. The club members again had a great time seeing all the kids having fun.